by Andrew W. Barden '21
Bio
Andrew W. Barden '21 is a business economics major and mathematics minor at Hampden-Sydney College. He has been a Ferguson Career Center Intern for two years and has been a part of the TigerFund since sophomore year. Andrew grew up in the small town of Poquoson, Virginia and aspires to work as a Venture Capitalist specializing in African startups. Andrew enjoys fishing and watching ice hockey in his free time.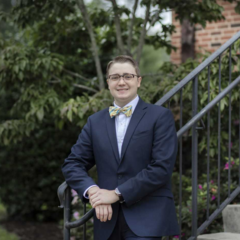 COVID-19 has disrupted every aspect of being a college student – our social lives have changed and the way we learn has evolved. For many students, having a summer internship is the single most important thing they can do during college to prepare for a post-graduation life. In the panic of restructuring whole business models and work environments, many firms decided to cancel summer internships, but some firms made the bold move to try virtual internships.
I was lucky enough this summer to have my internship move to a virtual format and I can attest that it is a very different experience from what I was expecting when I was accepted to the program back in January. There are some skills I have been forced to adapt to and learn in order to make the most out of this virtual experience. In this article, I will discuss some of the things I have learned that can help you make the most out of your virtual internship.
Time Management
The ability to manage one's time has always been an important life skill, but with the distractions of family and living at home take it to a different context. I have learned that consistency is important; just because you can sleep in, does not mean it is a good idea. Pick a time that works best for you to wake up and follow that strictly during the week; hitting snooze may mean you miss that morning team Zoom meeting.
If you are living with other people in a house or apartment, it is also important to be clear with them about your hours of work. If you fail to be clear, your family or friends will inevitably distract you from your work. Also, your roommates should be aware of your expectations for your tele-internship. For example, if you are working with global firms and need to take phone calls or meetings in the middle of the night, you should make that clear to your roommates.
Using a calendar or planner has always been a good idea for any working individual, but since you may not be in an office and have the distractions of home, it is a must that you keep on top of your to-do's and meetings. In an office, you have co-workers and others that can help remind you of meetings or projects, but at home, you need to ensure not to miss anything important. One of the easiest ways to get off-track and lose productive work time is to sit on your phone. This is hard for many young people, including myself, because our generation has grown up with phones and the intense distraction of social media. One of the best ways to fix this distraction is to put your phone down for a set time period and forcing yourself not to pick it up during that time block. I have found that using the 45-minute time interval has been extremely effective in reducing the amount of time I waste.
When you are interested and engulfed in your virtual internship, it is hard to leave some time for the personal, but is prudent that you leave some free time for yourself; this will ultimately leave you feeling happier and healthier. I have made the personal rule that I will leave at least 2 hours per day for myself. In this time, I can go on a run or go to the driving range to hit some golf balls. My favorite time of day is dinner. I like to close my laptop, grab a beer, listen to some music, and clear my mind of all the work I have been doing. Keeping a divide between the professional and personal while working from home is impossible, but it is important that you allow yourself the ability to escape work for a little bit each day.
Team Communication
Communication is one of the pillars of effective leadership and operation, but away from the office, communication can be a more challenging. You cannot just walk down the hall or turn to a co-worker's desk to ask a quick question. Email and phone calls are traditional ways to communicate with your team, but new software programs like Slack and Facebook Workplace are revolutionizing how we communicate with our co-workers.
You should work to find the most effective means of communication with your co-workers and bosses. If one co-worker prefers to be reached via email and another prefers text or phone calls, you should try to personalize your approach to the individual for the most authentic and efficient means. While it is important that everyone understand their tasks and role, you should avoid over-communicating (yes, this can happen).
Make your interactions more productive; no matter which format you are communicating in, you want to make your time and your co-worker's time as productive, and therefore valuable, as possible. By asking deep questions about a project, save simple or base questions for Google. For example, instead of asking a co-worker what a CRM is, look it up and ask how it is being leveraged within your firm's business model.
Zoom has likely been the single most effective tool in communicating throughout this pandemic. Many teams are holding weekly/bi-weekly/daily meetings and through experience, I can stress the importance of adding input in these meetings. Since you may have never met your team in-person, they could go the whole summer working with you, and they may not even know who you are; it is important to make yourself known.
On-Boarding
When you start a new job or internship, the process of getting up to speed with everything and setting up things like email and employment paperwork is called "on-boarding." This process is made more complicated when done virtually, but there are ways to make things easier on yourself. Part of the on-boarding process is learning new programs and software's you may not have experience working with.
Before officially starting your internship, take the initiative to find out which programs you may be using; many program solutions are now offering webinars on their products. Take some time to learn about the necessary programs/software's by watching free webinars. For example, I had trouble figuring out how to utilize the features on MailChimp – a email marketing and contact management platform – and "figuring it out" was far too inefficient, so I took a few hours to watch webinars and it completely changed my attitude and ability when using the program. In the office, a co-worker may be able to sit down with you and show you the in's-and-out's, but that is complicated when working virtually.
One should also take some time early in your internship to build relationships with some of your co-workers. Your internship is more than an opportunity to gain experience, it is also a chance to network; for example, maybe you will call up an old co-worker and ask them to work for your startup one day because you know their work ethic and abilities. I found that scheduling a 30-minute meeting for a phone call with my co-workers was extremely effective for personalizing relationships and has made my co-workers more apt to respond to my questions and inquiries.
Missed Experiences
Depending on the industry and firm your internship is with, you will be missing many of the things that make a summer internship special. The sound of ringing phones, office conversations, and shuffling papers may be gone, but many firms are making attempts to retain some of the intern comradery that existed with in-person experiences.
One of the things many firms have been doing is a virtual happy hour between interns and firm leadership. Yes, you may be sitting at your desk, drinking a beer in front of a laptop camera, but use this – sometimes awkward – opportunity to learn as much as you can about the industry and how your co-workers got to where they are. My firm does not currently do a virtual happy hour after work hours, but I still believe it is important to fostering a sense of community among co-workers.
Since the world has effectively become virtual overnight, the ability to attend industry conferences and network has been truncated considerably. Because most of the value in a conference is the in-person networking opportunities, virtual conferences are far more affordable or even free. This is good for college students trying to break into a highly specific industry because it is much easier and affordable to attend. While there is no feeling like hopping on a plane and staying in a hotel in an unfamiliar city for a conference, the barriers to attend are lower and there are often opportunities during virtual conferences to network and communicate with other attendees.
Lastly, dependent upon the scope of work you are doing, you do not have the ability to get dressed nicely for work to go to the office (this is more pertinent for the finance and consulting industries). While it is easy to throw on some sweatpants and a t-shirt for work, that does not necessarily help one's ability to work at home. When you get dressed for work every day, you are forcing yourself into the mindset to achieve something that day. My family gives me weird looks for getting dressed nicely every morning, but I do not care because I know it helps me focus. It is important that you find what works best for you in your specific circumstance.
Conclusion
COVID-19 has screwed many people's plans and has systematically changed how our world works, but as a college student, you should not use that as an excuse to slack on your career aspirations. If you were not able to do your internship this summer, you have the unique ability to make your own opportunity; some of the most successful companies were started by people in dire straits. If entrepreneurship is not your strong suit, learn something new that makes you more marketable as a job prospect. You can decide to take any number of exams to change your future (i.e., SIE Exam for finance-industry prospects or studying for the MCAT). There are hundreds of software and programing languages you can learn for free online with sites like Coursera or YouTube.

If you are lucky enough to still have an internship this summer, you are exactly that, "lucky." You have the responsibility to use that luck to best prepare yourself and your core network for the future. What has been said in the lines above is nowhere close to everything you will need to succeed in your virtual internship, but if you take anything away from this article, understand that there are few things as unfortunate as the wasting of a good opportunity.