Your Hampden-Sydney Career Center has been collaborating with career centers at several liberal arts colleges in Virginia to bring you a series of Zoom webinars associated with careers in the Federal government or government contracting.
Two of the panel interview events featured H-SC alumni working with the FBI, CIA, IBM, Ernst Young, and Guidehouse.
Fear not, you can still view these informative sessions! Links to the Zoom recordings of the Federal resume webinar, Careers in National Security panel, and Careers in Consulting and Government Contracting panel events appear below.
How to Write a Federal Resume
Presenter: Christine Harringer, Director of Career Development & Life Design, Hollins University
Moderator: Barb Watts, Director of Career Services, Sweet Briar College
Click to view Federal Resume Zoom recording
Passcode: Kbr@0zwy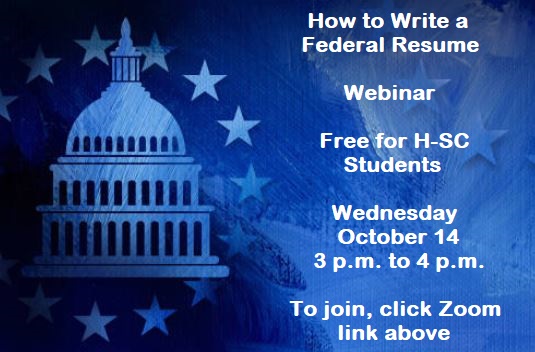 Careers in National Security – Panel Interview
Moderator: Scott Robert, Director of Employer Relations, University of Lynchburg
Panelists: Peter Chiglinsky, H-SC '16, FBI; Trey Lackey, H-SC '86, retired CIA; David Rosser, U of L '90, US Secret Service; Ashley Dalton, U of L '02, DEA
Click to view National Security Panel Zoom recording
Passcode: TfEC72a*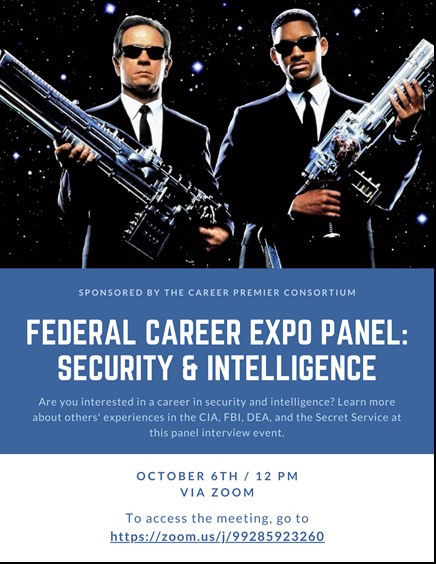 Careers in Consulting and Government Contracting – Panel Interview
Moderator: Stephanie Joynes, Director of H-SC's Ferguson Career Center
Panelists: Andrew Bauer H-SC '14 – Change/Communications Professional, Guidehouse; Nate Oliver, H-SC '16 – Senior Consultant, IBM; James Turner, H-SC '18 – Advisory Consultant for Performance Improvement & Finance, EY (Ernst & Young); Olivia Fagan SBC '14 – Senior Associate, Pantheon Integrated Solutions; Caitlin Jones RC '17 – Energy and Water Policy Analyst, Concurrent Technologies Corporation
Click to view Consulting Panel Zoom recording
No password needed