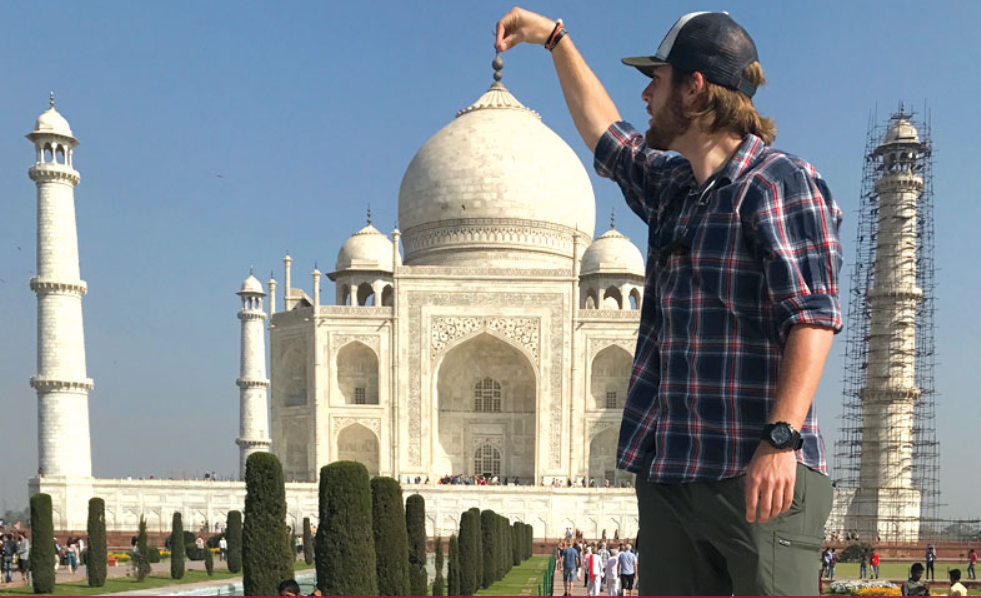 Let's start off by saying that 2020 isn't exactly what we planned. When our advisors talk with students about "career planning," we emphasize that sometimes even the best plan can derailed by things we've never even considered. For students who were expecting to leave for locations around the world we want you to know that we still recommend and encourage you to study abroad – just not right now.
First, let's celebrate the fact you want to travel and see the world. And there are ways to keep that spark alive. From a career standpoint, understanding globalization and how we are all connected with this pandemic provides a unique insight at this special time in your life. But now what?
Keep Learning
Foreign language skills can dwindle quickly if they aren't used regularly, and if you aren't in the classroom or have a group of people to practice your skills, it's hard to stay motivated. Download these free language apps to keep your skills fresh or pick up another language:
Duolingo: Includes Spanish, French, German, Chinese, English, Japanese, Korean, Italian, Portuguese, Dutch, Irish, Danish, Swedish, Turkish, Esperanto, Norwegian, Ukrainian, Hawaiian, Russian, Polish, Hindi, Welsh, Hebrew, Vietnamese, Hungarian, Greek, Swahili, Swedish, Romanian, Indonesian, Czech, Navajo and Klingon, High Valyrian <— These may not be as useful in your travels.
Merise: Includes English, French, Spanish, Dutch, Portuguese, Norwegian, Danish, Japanese, Korean, Icelandic, Slovenian, Arabic, Turkish, German, Swedish, Polish, Italian, Chinese, Russian, Mongolian
Rosetta Stone: Includes English, French, Spanish, Dutch, Portuguese, Norwegian, Danish, Japanese, Korean, Icelandic, Slovenian, Arabic, Turkish, German, Swedish, Polish, Italian, Chinese, Russian, Mongolian
Keep Exploring
Lucky for you museums and cultural sites have been working on virtual tours for years, and when the lockdowns began, many of these sites went viral. Here are a few of our favorites:
Google Arts and Culture partners with global museums and cultural sites to digitize collections and create virtual projects, while still being open to experimentation of the space between art, technology, and public access to collections. Explore material culture from world class museums by location (Japan), artist (Vermeer), or theme (Sports in Australia).
Les Catacombs de Paris: In the late eighteenth century, when major public health problems tied to the city's cemeteries led to a decision to transfer their contents to an underground site. Paris authorities chose an easily accessible site that was, at the time, located outside the capital: the former Tombe-Issoire quarries under the plain of Montrouge. The first evacuations were made from 1785 to 1787 and concerned the largest cemetery in Paris, the Saints-Innocents cemetery. Explore the virtual tour and imagine walking through the this underground urban cemetery.
Get an update on the restoration of Notre Dame de Paris from Science Magazine where art and science come together to preserve this iconic French architectural marvel after the devastating fire on April 15, 2019.
Be Persistent
While we adapt to the new abnormal, our Global Education Department can answer your questions about how to plan ahead for your journey whenever it may happen. Please contact Dr. Widdows to learn more about the 100+ programs in over 30 countries that might be a good fit for you. You can read more about other H-SC students and their experiences on the Tigers Abroad blog and explore funding options.
Tiger Tip: You can also contact the Ferguson Career Center for post-graduation opportunities with the Peace Corps, teaching English abroad programs, TOEFL certification or international graduate school programs that also might give you the global cultural experience and adventure you crave.